Ford Tire Maintenance Basics
Learn about the tire care basics in our informative tire service video.
If it has been a while since you've had the tires on your  Ford F-150, Explorer or other model looked at, now is the time to do it. Every  couple of months, or during routine oil changes, you'll want to get your tires  inspected for any problems. This will help ensure that you stay safe on the  road and increase the longevity of your tires. Our team of factory-trained  technicians are experts at examining the tires on your new or used Ford  sedan, truck, SUV or other make/model. Please continue reading our tire  service information guide to learn more.
How to Tell  If Your Vehicle Needs Tire Maintenance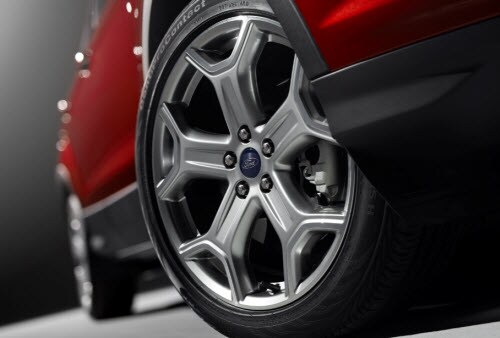 From tire rotations to tire replacement, we do it all at Grand  Prairie Ford. In order to keep your car running its best, we advise that you  have your vehicle routinely inspected for things like gouges, cracks and bulges. If you notice any of these symptoms, bring your vehicle in for  servicing right away.
Other signs that will help you determine if your vehicle  needs new tires or service include:
Sidewall scratches
Steering wheel vibration
Even tire "wear bars"
These are just some of the many symptoms that should prompt  you to schedule an appointment for tire service in Grand Prairie. Having your  tires rotated, balanced and aligned can help ensure that they last as long as  they should.
We recommend having your tires rotated every 6,000 miles.  Tire alignments should be performed at least every 12 months. However, if you  find that you are driving more than 12,000 miles per year, you'll want to have  this service performed more frequently.
We also advise that you pay close attention to the air  pressure of your tires. Follow your owner's manual to learn about the correct  psi. If you find yourself having to continuously refill your tires, it probably  means your vehicle needs new tires.
Ford Tire  Service Near Me
When it comes to providing outstanding customer service and  top-tier automotive work, you can count on our team of dedicated car service  professionals. If you need new car tires near Dallas, you can also bet that we offer a variety of top-of-the-line tire brands, including Michelin, Hankook, Goodyear and many more.
Give your vehicle the outstanding automotive  service that it deserves by bringing it to Grand Prairie Ford! Please contact us if you have  any questions.
Service Hours
Monday

7:00AM - 6:00PM

Tuesday

7:00AM - 6:00PM

Wednesday

7:00AM - 6:00PM

Thursday

7:00AM - 6:00PM

Friday

7:00AM - 6:00PM

Saturday

7:00AM - 4:00PM

Sunday

Closed