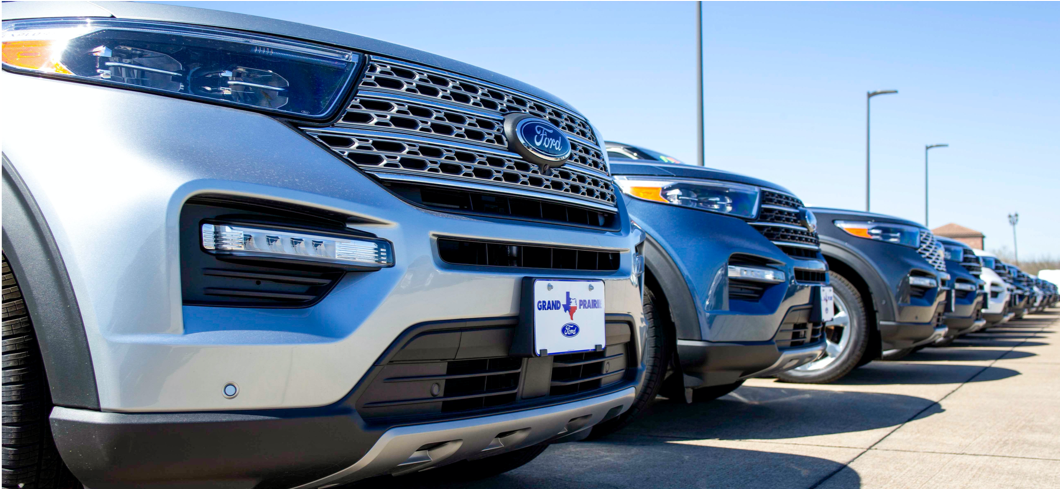 Get Low Monthly Payments with Grand Prairie Ford's Flex Buy
At Grand Prairie Ford we do "Whatever it Takes" to earn your business. We are introducing a totally new way to buy a new Ford – Flex Buy! Flex Buy means that you pay a true zero down, a lower monthly payment to start your contract and after an agreed upon time the payments adjust. With Flex Buy, your payments match your budget. Take a closer look.
Flex Buy Means Flexibility
Grand Prairie's Ford Flex Buy offers two payment schedules that are flexible financing contracts. Flex Buy contracts have a fixed rate at 66 or 75 months. The first 36 months of your contract, you choose a lower payment The remaining contract you will have a slightly higher payment.
Flex Buy is not a Lease or Balloon financing. There is not a residual amount, refinance requirement, or mileage limits.
Benefits of Flex Buy
Some car buyers need a lower monthly payment without being locked into a lengthy 84 or 96 month contract. Grand Prairie Ford's Flex Buy offers the benefits of leasing a car, such as lower monthly payments, with the benefits of financing a vehicle, including no mileage limits or excess wear and tear charges.
Not only will you own your vehicle with no mileage restrictions, but you can apply the equity to future vehicle purchases.
Flex Buy Fits Your Budget
Grand Prairie Ford's Flex Buy is a lease alternative, combining the benefit of lower monthly payments with the benefits of financing your vehicle purchase. If you are someone who prefers to frequently trade your vehicle in, Flex Buy allows you to create equity while complementing your budget.
Are You a First Time Buyer?
If you've just graduated college or if this is your first vehicle purchase, Grand Prairie Ford's Ford Flex is a incredible opportunity because your payments will start off lower, aligning perfectly with those who have an entry-level salary. It is also a great way to get into a new vehicle with a full warranty without the burden of high monthly car payments.
Grand Prairie Ford will do "Whatever it Takes" to provide you with flexible finance options that work best for you and your family.
Call or set up an appointment today to discuss these options with our knowledgeable finance teams.
844-880-3588
Make an Inquiry
* Indicates a required field
Hours
Monday

9am-8pm

Tuesday

9am-8pm

Wednesday

9am-8pm

Thursday

9am-8pm

Friday

9am-8pm

Saturday

9am-8pm

Sunday

Closed