Where Can I Trade In My Car Near Grand Prairie?
If you are looking for a place to turn in your vehicle for a new one in Grand Prairie, look no further than our dealership. With a large, ever-changing inventory and a trade-in program, we are here to make your car shopping experience as smooth, convenient, and affordable as possible.
One great way that we can help you lower the cost of a new car is through trading in your current car. This involves three easy steps. First, you will need to figure out your car's worth, which you can simply do on our website. Then, you can browse our inventory of quality vehicles to find a new or used model that speaks to you. Finally, you'll complete the paperwork needed to make the transaction complete. If you arrive at our dealership holding the title to your current car, we can even send you home with your new car on the same day.
Perhaps you like the thought of swapping out your car for a new one and finally getting that Ford you have been wanting. But there's one catch, which is that you still have not finished paying off the loan for your current car. Fortunately, this isn't a problem with our accommodating trade-in program. We provide you with cash for your car when you turn it in that can be applied to the existing loan to pay it off.
Sometimes, this total will cover the cost of the outstanding loan. But even if it doesn't, it can still reduce the overall amount left on the loan. The remainder of your current loan will simply be applied to the balance of your new car loan. This means that you can enjoy the convenience of driving away in your new car without having to worry about loan payments getting in the way.
How Much Is My Car Worth?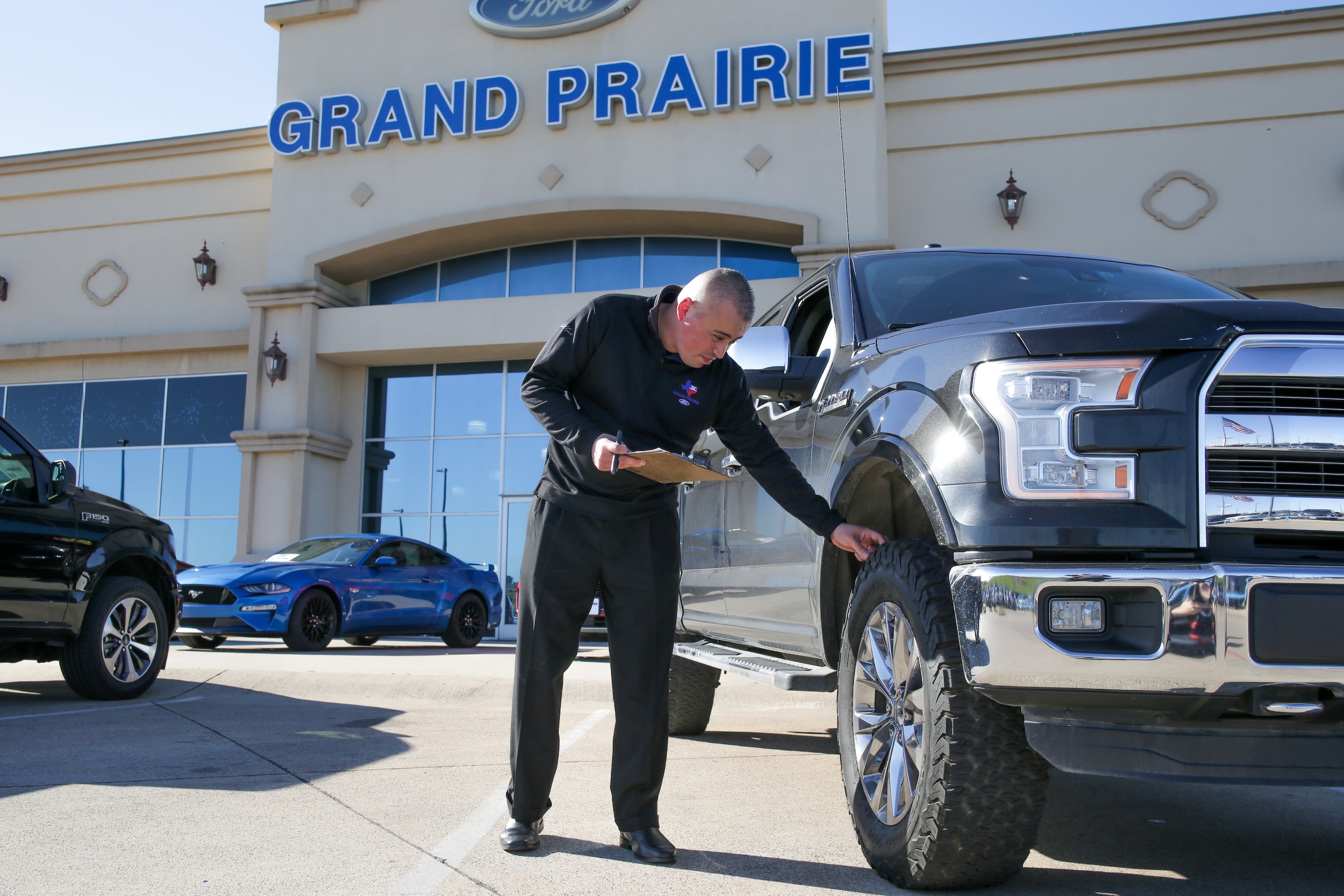 For many car shoppers, one of the most important elements of a trade-in is determining their car's worth. We make this complex calculation much easier with our online calculator. All it takes to figure out your car's current value is visiting our website and filling in the form with some information about your car, including its production year, color, model, and trim level. You'll also be able to add in any features and special packages it has.
While you might not think all this information is important, it all factors into determining how much money you can get for your car when you exchange it with a new one. Therefore, we recommend using the most current and detailed information possible about your vehicle so that you have a more precise estimate of how much money you will have to help finance a new car.
What Can I Trade My Car in For?
Now that you have a good idea of how much money we might give you for your trade-in, it's time to check out the inventory of the vehicles that we have in stock. This year, you may have decided it's time to get the F-150 you have always wanted. Or maybe an iconic Mustang is more your style. If we have your car in stock, you are free to take it for a test drive. Otherwise, check back soon, as we have new cars all the time.