Grand Prairie Dealer Researching the New Transit Transit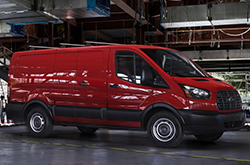 Bulky, hard-to-drive vans are no longer the sole option for large families and small business owners who need a van to haul their kids or their cargo. And Ford continues to lead this van revolution with the 2015 Ford Transit that offers features and amenities that sport greater handling, better maneuverability and are more economical.
Ford's Transit lineup is a perfect example of this new generation of vans. Coming in the full-size Transit and the smaller Transit Connect and Transit Connect Wagon, our 2015 Ford Transit review thinks that Ford has taken the van marketplace to the next level by offering customers a variety of options for their passenger and cargo needs.
The full-size Transit is ideal for those who need something to carry either a lot of cargo or a lot of people, though our 2015 Ford Transit review thinks it serves better as a cargo van. Offering a wide variety of body styles, you can customize the Transit for whatever you might need. Whether you need a longer body or a shorter roof or tougher payload capacity, drivers in Texas will find the 2015 Ford Transit in Grand Prairie is the ideal van for any customer's needs.
With over 487 cubic feet of cargo space, room for up to 15 passengers and 3.7-liter V6 engine, drivers will find that there is nothing that this bad boy can't handle.
For small businesses looking for something smaller, but with just as much power and performance, the 2015 Ford Transit Connect is the right choice. And passenger van shoppers will also find what they're looking for in the Transit Connect Wagon. Both versions come with a 2.5-liter four cylinder engine or a 1.6-liter turbocharged four that offer immense power for even the toughest loads.
So stop by our showroom today and test drive the new 2015 Ford Transit in Grand Prairie. The van revolution is here and we know you'll be excited by this wonderful new landscape.