About Grand Prairie Ford Mustang Reviews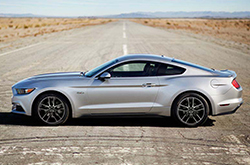 Celebrating its 50th anniversary, the 2015 Ford Mustang is getting an impressive redesign this model year with everything from a new engine to new body styling to a roomier and more luxurious interior.
Looking first at the engine, Ford has imbued the new Mustang with three engine choices including an all-new EcoBoost four cylinder that may sound odd given the fiery legacy of the Mustang, but trust us, this turbocharged four has plenty of giddy up that Mustang owners will love, just as much as the higher fuel economy it affords. But for those with more traditional Mustang power in mind take a look at the 3.7-liter V6 or 5.0-liter V8 options.
And our 2015 Ford Mustang review was very impressed with the new independent rear suspension on this newest horse, which gives the auto better handling and a more comfortable ride.
Moving to the car's exterior, shoppers looking for a 2015 Ford Mustang in Grand Prairie will love what Edmunds.com calls the car's "more aggressive look." Sporting a larger grille, new side windows, redesigned headlights and a slightly wider wheelbase, drivers will find that these touches provide the Mustang with a powerful new look that reflects the power under the hood.
The Mustang's interior is also a favorite feature of our 2015 Ford Mustang review with its upgraded materials that include a leather-wrapped steering wheel, heated and ventilated front seats, keyless ignition, the Sync voice control system and a six-speaker sound system.
Adding to all of this is Ford's powerhouse Mustang, the Shelby GT500. The GT500 has rated up to 662 horsepower with terrific handling that stops and starts on a dime, so shoppers wanting a more track-focused 2015 Ford Mustang in Grand Prairie should look no further than this newest Shelby GT500.
For more information and to test drive the new Mustang visit our showroom today!