2015 Ford F-150 Reviews from Grand Prairie Ford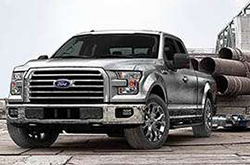 The Ford F-150 continues to be the jewel in Ford's crown as one of the most popular truck models in the country. And our 2015 Ford F-150 review knows that the new 2015 redesign only stands to solidify that popularity.
Shoppers looking for a 2015 Ford F-150 in Grand Prairie will find that Ford didn't tinker too much with its already award-winning design, it just rounded out a few areas to give the F-150 greater fuel economy and a lusher interior.
This newest F-150 incarnation offers a wider cabin, new interior design and a lighter body frame. The wider cabin opens up the truck by at least two inches between the driver and passenger seats, while the new interior uses high-end materials that give the cabin the feel of a luxury car. The biggest news is the lighter body frame and the new aluminum body panels that the 2015 F-150 will sport. The new model has shed over 700 pounds and as result with gain an impressive amount of fuel economy.
And with amazing features including an eight-inch touchscreen, LED headlights and a panoramic sunroof, our 2015 Ford F-150 review thinks the new 2015 model is setting itself up to be the new standard for all other trucks in its class.
The remainder of the F-series also saw significant redesigns with the biggest being the engine power on the F-250 and F-350 models. The optional 6.7-liter turbodiesel engine has been revised to offer a greater powertrain of 440 horsepower and nearly 860 lb.-ft. of torque. And in the F-450, super duty truck shoppers will be very happy with the upgraded towing capability that now reaches over 31,200 pounds.
So stop by our showroom today and test drive the new 2015 Ford F-150 in Grand Prairie as well as the rest of this amazing truck line.