Grand Prairie Ford's 2015 Expedition Review and Research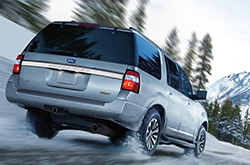 In the full-size SUV segment, no one does it quite as well as the Ford Expedition. The go-to family SUV for the past several years, the Expedition offers the right amount of power, space and comfort that larger families will find ideal.
And shoppers looking for a 2015 Ford Expedition in Grand Prairie will appreciate the new Expedition's larger three row interior, increased fuel economy and heavy-duty towing capacity.
But it's the increased fuel economy and new engine choices that our 2015 Ford Expedition review thinks are the best new features on the SUV. Dropping the V8 engine from the older models, the new Expedition gets a turbocharged V6 that rates at 365 horsepower and 420 lb.-ft. of torque and saves a great deal of fuel as a result. These numbers actually exceed the old V8 and paired with an all-new suspension, the new 2015 Expedition not only gains power, but also offers an impressively comfortable ride.
SUV shoppers will love the options offered on the 2015 Ford Expedition in Grand Prairie. Coming in two body styles (the regular Expedition and the extended-wheelbase Expedition EL), the 2015 Expedition also comes with four trim levels: the XLT, Limited, King Ranch and Platinum.
Our favorites were the King Ranch and the Platinum trims as they offer the most toys, the best materials and greatest safety features. The King Ranch is the ideal for those who want a truck with a more "Western-themed" aesthetic, as the trim offers a special two-tone paint and exterior details as well as premium leather upholstery and wood grain interior trim.
The Platinum comes with most of the King Ranch's features, but drops the Western-style paint and interior touches. Our 2015 Ford Expedition review found they are both very well equipped with 20-inch wheels, keyless entry, heated mirrors, leather-wrapped tilt-and-telescoping steering wheel, front parking sensors and a sunroof.
Stop by our showroom today to test drive the new 2015 Ford Expedition in Grand Prairie and see why this SUV is the perfect fit for families of all shapes and sizes.