Check Out the New 2015 C-Max From Grand Prairie Ford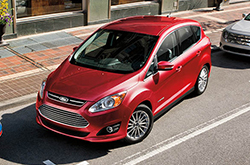 With its refined driving style, lush interior and exciting options, the Ford C-Max stands out in the hybrid crowd for all the right reasons. Coming in two versions, the C-Max Hybrid and the C-Max Energi, Ford has accomplished a wonderful balance between the fuel saving power of a hybrid and the luxurious feel of a sedan.
Hybrid shoppers will love the 2015 Ford C-Max in Grand Prairie for its sleek design and luxurious interior that is decidedly lacking in other hybrid models. The C-Max Hybrid's impressive engine and powertrain will also have Grand Prairie shoppers excited, as it uses a fantastic 2.0-liter four cylinder gas engine that is paired with an electric, lithium-ion battery pack. Their combined power is 188 horsepower, which means this hybrid beauty will be both fuel-friendly and powerful.
The C-Max Energi takes this one step further as a plug-in hybrid that offers one of the best driving experiences on the market. Edmunds says, "[The] C-Max Energi feels better on the road than almost all its similarly priced and sized rivals. Cars like the Toyota Prius are less refined and feel less substantial and connected to the road." And our 2015 Ford C-Max review agrees that it's this "better on the road" aspect that has the C-Max becoming one of the most sought after hybrids on the market.
The interior cabin on both the Hybrid and the Energi will feel lush and modern with features that include top-notch materials and very supportive driver and passenger seats that will give you a driving experience that is unique amongst other hybrid and plug-in models. And our 2015 Ford C-Max review especially loved the fantastic tech amenities offered on both models such as the MyFord Touch interface and the Sync voice control system.
You can find both versions of the 2015 Ford C-Max in Grand Prairie, so stop by our showroom today and check out these amazing autos!