Dallas Ford Dealer Researches the New Flex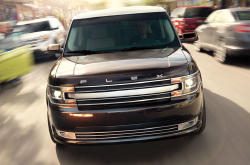 Before you start reading the Ford Flex review below, we've got a fun trivia question for you. What does the new Ford Flex and Christian Lander, author of the popular book and blog, "Stuff White People Like," have in common? Quite a bit, actually. The pair is teaming up to add to the conversation on the Ford Flex Facebook page. Lander is currently building what he refers to as a Suburban Dictionary, an online collection of phrases that are related to life in the suburbs. As part of the promotion, Ford Flex owners in the Dallas area are invited to join in on the conversation and add their own terms and definitions. An example of the type of material you'll find on the Suburban Dictionary include phrases like, "Healthy Math" and "Fitness Museum"; the former meaning the 500-calorie reward you give yourself at the end of a day of healthy eating, the latter referring to a garage filled with unused workout equipment that was probably purchased as a New Year's Resolution or after viewing a late-night infomercial. Funny stuff, if you happen to be familiar with suburban life. Enough trivia. Get to the review of the Ford Flex from Grand Prairie Ford by scrolling past the video below.
Watch a Video on the New Flex
Compare the Ford Flex's Specs & Features
Check out the 2013 Ford Flex next to versus similar autos like the 2013 Buick Enclave, Dodge Durango, Honda Odyssey and the Chevrolet Tahoe, and you will discover that the 2013 Flex out does those vehicles in loads areas. View the reasons see why!
2013 Ford Flex MPG: 17 city / 24 highway
2013 Ford Flex Cargo Space: 20 cubic feet
2013 Ford Flex Seats: 7 passengers
2013 Ford Flex Body Style(s): Midsize SUV
2013 Ford Flex Colors: White Suede, Tuxedo Black, Mineral Gray, Ruby Red, etc...
2013 Ford Flex MSRP: $30,885
2013 Ford Flex 0-60 MPH in 7 seconds
Get Under the Hood: Engine & Powertrain Specs for the 2013 Flex
Ford Auto Repair & Service Information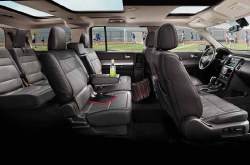 Your Ford should be treated with the utmost care - that means Ford factory- trained Flex technicians, bona fide Ford parts, and the reassurance that comes from a 12-month service dealer warranty. Grand Prairie Ford service and auto repair in Dallas is a click away! Even the quality Fords in Dallas can take a pounding, so turn to the Ford service and autp repair professionals in Dallas at Grand Prairie Ford. Whether you come for quick multi-point inspections, a effortless in-cabin air filter replacement or anything else, we'll complete your Ford repairs with finesse. Grand Prairie Ford is your surefire destination in Dallas for fast, professional Ford Flex repairs and regularly scheduled maintenance. For generous savings, check out coupon specials at the next link.
The 2013 Ford Flex: Setting a New Suburban-Dallas Standard for SUVs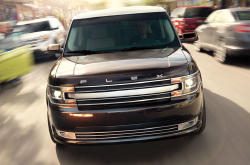 Even if you don't happen to live in a suburb, the Ford Flex is a great option when it comes to finding an attractive, affordable and capable seven-passenger SUV for the whole family. With great new features like next-generation SYNC technology, improved fuel economy and a redesigned exterior, Ford Flex shoppers in Dallas (and its suburbs) can finally take home an SUV that fits their family's lifestyle and unique socioeconomic situation.
For more information on the one-of-a-kind Ford Flex, contact Grand Prairie Ford by filling out the inquiry form on the right with your question and email address. We'll promptly contact you and help you get the information you need. A variety of financing, leasing and buying options exist, so don't hesitate; contact us now and let us show you what we can do for you!