Check Out the New 2013 Fiesta From Grand Prairie Ford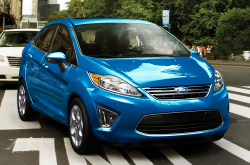 When you begin your search for a new vehicle, who do you rely on? In our experience, you talk to friends, dealers and read reviews. So what are people saying about the new 2013 Ford Fiesta in Dallas? Quite a bit, as it turns out. It's received stellar ratings and ranks at the top of many automotive reviewers' lists. For instance, Edmunds.com writes, "The Fiesta stands out in this crowd because of its high-quality appearance and excellent driving dynamics, two things that make this car a pleasure to drive every time you're behind the wheel."
Even MSN got in on the action: "If the Fiesta's excellent fuel economy, technical competency and many features aren't enough for you, we think the price tag will seal the deal." And it's quite true: The Fiesta is one of the most affordable compact sedans or hatchbacks on the market, and it carries technology features and other amenities not normally included in its price range. When was the last time you heard of a car that offered heated leather seats and keyless entry and push-button start (plus a whole lot more) for just over $18,000? And that's the price on the top level trim. The base model S from starts at just over $14,000. Can you hear that sound, folks? That's the sound of money in your pocket. Read a full 2013 Ford Fiesta review beneath the video below and find out if this sporty subcompact is the car for you.
Ford Fiesta Comparisons & Quick Specs
By examining the 2013 Ford Fiesta side-by-side with the 2013 Toyota Yaris, Honda Fit and the Nissan Versa, and you can discover that the Fiesta outperforms those autos in quite a few zones. Take a look at the hightlights below.
2013 Ford Fiesta MSRP: $13,200
2013 Ford Fiesta Cargo Space: 12.8 cubic feet
2013 Ford Fiesta Colors: Oxford White, Blue Candy, Race Red, Lime Squeeze, Yellow Blaze, etc...
2013 Ford Fiesta 0-60 MPH in 9 seconds
2013 Ford Fiesta Body Style(s): Sedan, Hatchback
2013 Ford Fiesta Seats: 5 passengers
2013 Ford Fiesta MPG: 29 city / 37 highway
Peace of Mind Comes Built into the 2013 Ford Fiesta
Maintaining the Quality & Value of Your New Investment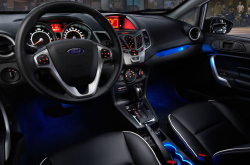 Your Ford deserves to be treated correctly - that means Ford factory- trained Fiesta technicians, the comfort that comes from a 1 year service work warranty and trustworthy Ford Fiesta parts. Grand Prairie Ford service and Ford repair in Dallas is a double click away! When you bring your Fiesta to our auto repair division in Dallas, you'll get topnotch service from our certified mechanics. We handle a wide range of jobs with finesse, including Ford windshield wiper replacement, front and rear brake pad swaps and, of course, challenging tasks like muffler repair - and this is just a tiny percent of what we can take on. Also you can expect reasonable prices on all repairs, as well as one of a kind service every time you head down to Grand Prairie Ford. Get started on your next appointment by selecting a money-saving service coupon.
Take A Ride Around Dallas in a Fun-to-Drive 2013 Ford Fiesta!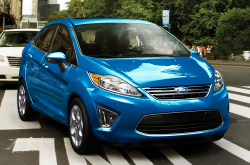 Grand Prairie Ford would like to thank you for taking the time to read a review of the 2013 Ford Fiesta. For more information on this amazing subcompact, visit their Dallas-area Ford dealership and make sure to take a test drive in this fun-to-drive sedan or hatchback. Ford Fiesta shoppers in Dallas can't go wrong with its capable combination of performance, value and features. If you'd like to ask someone from Grand Prairie Ford about the Fiesta, simply fill out the inquiry form to the right and one of their representatives will contact you shortly. Don't let a great thing pass you by; visit Grand Prairie Ford for more on the 2013 Fiesta and get the party started.