Discover the Hard Working 2013 Ford E-150 in Dallas-Ft. Worth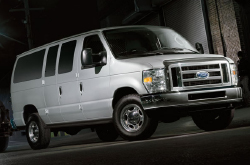 Grand Prairie Ford offers a close look at the new 2013 Ford E-Series vans for Dallas-Ft. Worth businesses. The base E-150 begins with 50/50 swing-out rear doors in addition to 60/40 swing-out side doors to provide trouble-free loading and retrieval of your gear. The Ford E-150's 237.8 cubic feet of cargo room allows you to haul whatever is required to complete your service call. For bigger projects, additional seating option packages accommodate up to five team members and still provide plenty of space to carry equipment and parts. Whether you're in a band on your way to play a gig in Dallas or deploying a team of electricians to a construction site in Arlington, a 2013 Ford E-Series van will do the job. Ford's dependability is a major contributor to E-150's successful history spanning more than 30 years. The 2013 Ford E-150 cargo van delivers solutions for business mobility, from managing field service teams to getting product to a destination. Browse this page to learn how Ford's E-Series vans combine the latest in communications and global positioning technology to help your business provide the best service possible. Read on in the Ford E-Series review below.
360 Degree Ford E-150 Video
Bullet List of E-150 Specs & Features
When comparing the 2013 Ford E-150 head-to-head with the 2013 Chevrolet Express, GMC Savana, Nissan NV and the Mercedes Benz Sprinter, and you'll see that the E-150 transcends those autos in several aspects. View just a few of the reasons below.
2013 Ford E-150 MPG: 13 city / 17 highway
2013 Ford E-150 Seats: 2-15 passengers
2013 Ford E-150 Body Style(s): Passenger Van
2013 Ford E-150 0-60 MPH in 8.6 seconds
2013 Ford E-150 MSRP: $26,800
2013 Ford E-150 Colors: Pueblo Gold, Steel Blue, Black, Oxford White, Vermillion Red, etc...
2013 Ford E-150 Cargo Space: 237.8 cubic feet
Features & Trims Available to Grand Prairie Ford E-150 Shoppers
Ford E-150 Service Info for Grand Prairie, TX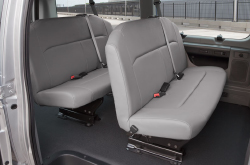 Get genuine factory parts and phenomenal workmanship from Ford technicians at a centralized site that's just a brief commute from your town. At our Ford auto repair center in Grand Prairie, we offer this and a long warranty on all services! Our Ford auto service branch in Grand Prairie is home to expert repair specialists, so drive your E-150 over for valuable service. In addition to more time consuming services like engine maintenance, we work on less laborious stuff like in-cabin air filter maintenances - and this is only a fraction of what we handle. Also come see us for windshield wiper replacement, regular oil changes and more. And, Grand Prairie Ford offers personalized customer service and reasonable prices. Get specials day or night. You can find and print discounts by clicking the upcoming line of text.
The New 2013 Ford E-150 Keeps You On-Track in the DFW Metroplex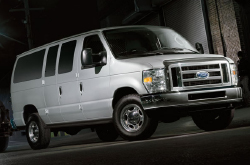 With all the choices and option packages available in the 2013 Ford E-150, E-250 and E-350, you may wonder which configuration will best serve your business needs. The expert staff at Grand Prairie Ford will provide additional details on options, pricing, incentives and financing to help your business get fully equipped for the field. Ford's E-Series vans offer rack-and-bin packages specifically designed for electrical, plumbing or HVAC repair, plus completely customizable options to suit any business service. For companies requiring multiple field units, Crew Chief™ telematics is the real-time field-data tool you need to monitor your crews and their schedule. Ford's in-panel touch screen Navigation System will keep your service vans on-track as they navigate the Dallas-Ft. Worth metroplex. Contact Grand Prairie Ford to find out how the 2013 E-Series vans will improve your ability to service your customers.