Read about 2013 C-Max for the Dallas area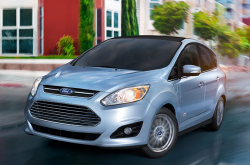 Hybrid cars in the Dallas area aren't all the same. Consider the all-new Ford C-Max Hatchback. It offers superior fuel economy to the Prius V and a longer driving range than Chevy's Volt. The icing on the cake is that the public agrees. The 2013 Ford C-Max is the fastest-selling hybrid at launch, ever. In its first two months of sales last year, it sold more than the previous chart-topper, the Toyota Camry Hybrid. It also sold more than three times faster than the combined sales of the Toyota Prius and Honda Insight in 2000. In fact, the C-Max is so well received that Ford is projecting high sales and is increasing production to meet the expected demand. As the demand for high-efficiency hybrids like the Ford C-Max in Dallas continue to grow, Grand Prairie Ford continues to build their inventory to meet that demand. Continue reading the Ford C-Max review below to learn more about its specs, features, mpg and more.
View a Walk-around Video of the 2013 Ford C-Max
Prominent Specs for the Ford C-Max
By examining the 2013 Ford C-Max alongside the 2013 Nissan Rogue, Toyota Prius V and the Chevrolet Equinox, and you can catch that the C-Max beats out those autos in oodles zones. Look over the hightlights below.
2013 Ford C-Max Body Style(s): Hatchback
2013 Ford C-Max MSRP: $25,200
2013 Ford C-Max MPG: 47 city / 47 highway
2013 Ford C-Max Seats: 5 passengers
2013 Ford C-Max Cargo Space: 19 cubic feet
2013 Ford C-Max 0-60 MPH in 8.3 seconds
2013 Ford C-Max Colors: Tuxedo Black, Blue Candy, Ruby Red, Oxford White, Ice Storm, etc...
Ford C-Max: Standard & Available Features for 2013
Our Ford Auto Repair Center: Helping You Maintain Your Investment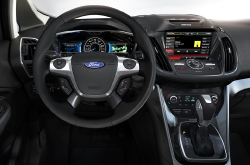 To find exceptional Ford repair techs and accredited factory-made parts, Dallas C-Max owners need not roam far. Go to a locale close to where you live, and benefit from the sense of contentment that comes with receiving trustworthy repairs and a gratis warranty on every service. Keep your C-Max running well; have it serviced by Grand Prairie Ford's knowledgeable car repair veterans. In addition to more elaborate repairs like electronics maintenance, we tackle less tricky stuff like air filter fixes - and this is just a fraction of what we handle. Also come see us for serpentine belt replacement, regular oil changes and more. Grand Prairie Ford is your safe bet in Dallas for quality, professional Ford repairs and routine maintenance. Get specials daily. You can find and print discounts by clicking the next line of text.
2013 Ford C-Max Trounces the Hybrid Competition in Dallas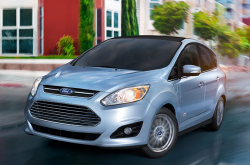 According to research by Maritz for Ford, fuel economy is the number-one thing on consumer's minds when it comes to purchasing a new car. Ford meets and exceeds that demand by offering a capable hybrid hatchback like the brand-new 2013 Ford C-Max. From performance to fuel economy to value, it trounces the competition, and Ford C-Max buyers in the Dallas Metro area are living that fact day in and day out. Get your slice of hybrid perfection from Grand Prairie Ford; contact them anytime by phone or online to arrange a test drive.
Much like the differences between hybrid cars, Ford dealers in the Dallas area have their differences, too. Grand Prairie Ford has a long tradition of helping customers find the vehicle they need at a price they can afford. Don't hesitate to visit them today to discuss details, car specs and other aspects of the 2013 C-Max Hybrid. And, if you've had trouble securing financing in the past, the financial experts at Grand Prairie Ford will work tirelessly to craft a plan that will help you get an affordable, manageable rate. You've got nothing to lose, and a C-Max to gain!