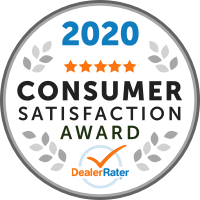 Grand Prairie Ford has been awarded a 2020 DealerRater Consumer Satisfaction Award, an honor presented annually to car dealerships that provide exceptional customer service as rated by online consumer reviews. DealerRater, the world's leading car dealer review website, created the Consumer Satisfaction Award program to enable online car shoppers to easily find car dealers that provide top-notch customer service.
Consumer Satisfaction Awards are presented to the top 10 percent of U.S. new-car dealers based on their PowerScore™, as well as top independent and Canadian dealerships that receive at least 25 annual reviews and maintain a minimum average PowerScore™ rating of 4.0 out of 5.0. The PowerScore™ is calculated with a Bayesian algorithm that takes into account the dealership's average DealerRater consumer rating and the number of reviews written about the dealership over the past calendar year.
"DealerRater's review database enables car shoppers to quickly find dealerships that deliver the best customer experiences. We congratulate Grand Prairie Ford for being among those dealerships. They clearly stand out among competitors in North Texas," said DealerRater General Manager, Jamie Oldershaw.
DealerRater features nearly five million dealer reviews and has a reachable audience of more than 32 million car shoppers each month. The company's award program grows more competitive each year, making this award an even greater honor.
Grand Prairie Ford has earned high scores on the DealerRater website on a consistent basis, placing us among the top dealerships in the nation. We couldn't be more proud of the recognition and will continue our commitment to provide outstanding customer service!