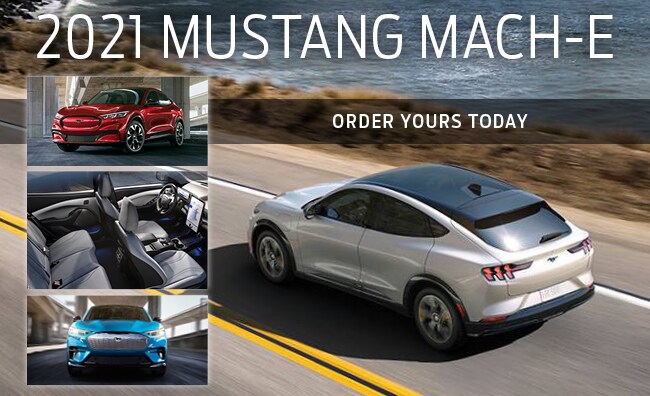 Meet the All-New 2021 Ford Mustang Mach-E!
For the first time in more than 50 years, Ford makes a change in 2021 to its iconic Mustang lineup. Now, you can order the Ford Mustang with an all-electric engine that offers impressive power. The newest Ford Mustang comes with a sophisticated electric drivetrain called electronic all-wheel drive, or eAWD. The Mach-E is also an SUV, making it an excellent choice if you want a larger ride that still offers sporty performance. The standard edition offers several trim levels, which range from the Select to the GT. You can also order the Mustang Mach-E in the GT performance edition, which is a unique performance-oriented vehicle. There are a number of pleasing standard amenities to enjoy across the board.
Mustang Mach-E Highlights
Inside and out, there are many delightful features to look forward to with the 2021 Ford Mustang Mach-E. The Mach-E stands out primarily for its impressive performance features, which include several powerful engines. The base engine generates up to 190 kW (255 HP) and 417 LB-FT for the all-wheel drive and rear-wheel drive configurations. The First Edition gets a slightly more powerful engine that produces 248 kW (332 HP). The GT, specially designed for performance, gets its own more powerful engine that produces 342 kW (459 HP). This engine also has an impressive torque output of over 600 LB-FT.
There are also a variety of innovative exterior accents to give your Mach-E a custom appearance. Standard exterior features include signature LED lights and sequential turn signals in the back with integrated LED lighting elements. LED reflector headlights are also standard, and they come with automatic high beams for safety and convenience. Inside, the Mach-E is equipped with the latest technology and amenities, including a 15.5-inch infotainment system and a Bang & Olufsen audio system.
Available Models
There are two primary models available in the Ford Mach-E: the standard Mustang and GT performance edition, which is a variant of the regular Mach-E designed exclusively for power and performance. The GT also gets its own set of unique features, including a MagneRide suspension and a carbonized front grille.
If you're excited about the 2021 Ford Mustang Mach-E and would like to learn more or reserve yours, be sure to contact us today.