Ford transmission repair and maintenance will become something of interest to drivers as their car begins to age. The transmission works in conjunction with the engine to help you travel safely where you need to go. If the transmission isn't working properly, your drive performance and the lifetime of the vehicle are both at-risk. Read the answers to some of the most common transmission repair and maintenance questions below and make sure you schedule service when it is necessary. The transmission is far too valuable to let damage interfere with the day.
When Should I Change My Vehicle's Transmission Fluid?
Transmission fluid lasts far longer than motor oil but needs to be changed nonetheless. The necessary frequency of those transmission fluid changes depends on the type of transmission in the car. Automatic transmission fluid requires changing more often than manual transmission fluid. Follow the care instructions in the vehicle owner's manual to keep your transmission running efficiently. Most manufacturers recommend transmission fluid is changed every three years or 36,000 miles.
Why Do I Need to Change My Transmission Fluid?

Transmission fluid decomposes over time. When it decomposes, it causes friction between the transmission and other components underneath the hood. This can cause a variety of concerns with your vehicle. If you want to keep your transmission protected and efficiently operating, regular transmission changes are important.
What are the Signs of Transmission Trouble?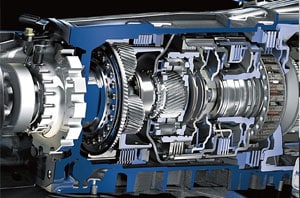 If you pay close attention to your vehicle, it is fairly simple to tell when something just isn't right. The transmission offers many signs that indicate a problem is lurking underneath the surface. Pay attention to those signs and schedule service at the first sign of trouble.
What Does a Transmission Repair Cost?
Rest assured our factory-certified technicians offer great pricing for all of your transmission service needs. Request an estimate to learn exactly how much it will cost to make your repairs. We also offer many service specials that can help with the cost of maintenance.