A working air conditioner in your vehicle is a veritable necessity. When driving in Grand Prairie and beyond many months of the year, you may turn your air conditioner on at a low level. Doing so enables you and your passengers to stay comfortable on the road. On scorching summer days, you likely crank the AC system up to full power for your comfort as well as your safety. Any component on any vehicle can wear down with age or can get dirty, and this includes all of the smaller and larger components in your Ford AC system. When any signs of repair problems are present, turn to our trusted and certified auto techs for a quick resolution.
Why Is My Ford AC System Not Blowing Much Air?
Staying cool and comfortable in your Ford requires an adequate supply of cool air to circulate as desired. When you are dealing with a weak airflow issue, you may easily feel unpleasantly warm in your Ford. As soon as you bring your Ford to our service center for help with this problem, we will assess the damage. Some causes of weak airflow are damage to the hoses and seals as well as a moldy evaporator case. These are issues that we can quickly address so that you can once again enjoy the full power of a well-maintained air conditioner in your vehicle.
My Air Conditioner Blows Warm Air. Do I Need System?

The concern about paying for a full AC replacement is common, but our certified technicians can often repair a system rather than replace it. We also offer many service specials. If your air conditioner blows chilled air initially before the air gets uncomfortably warm, issues with the fuses, seals, valves or compressor clutch may be to blame. On the other hand, the AC system may generate only warm air at all times. This type of AC issue could be the result of leaking Freon or damage to the condenser, compressor, blower or vacuum seals. We have most of the supplies and parts on-hand to complete common AC repair projects without delay. You can rest assured that we will get you back on the road with a functioning AC system soon.
Is My Ford Air Conditioner Leaking?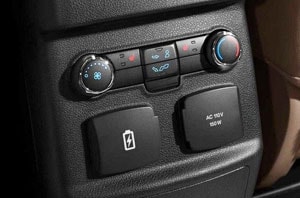 A leak in your car's air conditioner is not a matter to take lightly or to put off dealing with for another day. When a leak permits moisture to penetrate into the system, this moisture could turn the refrigerant into a highly-corrosive substance that wreaks havoc on the condition of the AC system. Because of these, any concern about the presence of a leak should be taken seriously. Our team can quickly inspect the system using a sniffer device or blacklight-sensitive dyes to determine if there is a leak that requires repair.
Why Does My Ford Smell Bad When the Air Conditioner Is On?
An unpleasant smell in your Ford can make your time on the road miserable, and it can even be embarrassing when you haul passengers around. Your air conditioner may be the cause of a foul smell. This smell may even be compared to dirty gym socks or rotten eggs. An air filter that has not been replaced in several months or more could be the cause, and replacing a dirty filter is a simple way to correct this issue. Some stinky AC systems are the result of a clog in a drain line. Some clogs can result in steady wetness on the evaporator case, and this eventually causes smelly mold. If this is causing your smelly issue, we can quickly clean the drain line and the mold to remedy the problem. For these or other air conditioner concerns, we are ready to help.