It might seem counter-intuitive, but at a time when cars have more amenities than ever, car shoppers are pickier about what they get in their cars. If you are in the market for a new Ford, you'll see that there are many more options now in the way of technology, safety, and luxury amenities than there was five or 10 years ago. Whether you're trying to decide on a model and trim level of a Ford vehicle or you're deciding between a Ford and another car brand, you're probably wondering what new and enticing amenities Ford has to offer.
Technology Features are Abundant on Ford Vehicles
Ford has historically made practical, utilitarian, and reliable vehicles. In the past few years, however, it has emerged as one of the top five automakers in the area of technology. Now, any Ford you're considering, whether it's a rugged F-150 or a comfortable Fusion, comes equipped with a generous technology package. Starting with the basics, you'll at least get a clear, easy-to-read infotainment system with a user-friendly design. Critics praise Ford for outfitting its vehicles with "affordable" and "accessible" amenities in its infotainment centers including quality sound systems, navigation, and smartphone support. Depending on the car you get, you can look forward to other notable features too like satellite radio and navigation with real-time traffic alerts.
Comfort and Convenience Taken to the Next Level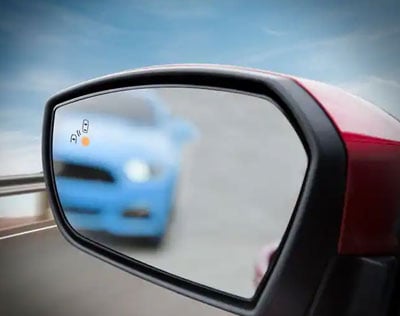 Luxury amenities are increasingly in demand among consumers. It might sound like an outrageous request, but consumers are also wanting to pay less for these features. You certainly won't find that winning combination with every automaker, but Ford steps up to the plate. Quiet, spacious, and comfortable are apt words to describe the interior of its vehicles as a whole, regardless of whether you're looking at a sedan, SUV, or truck. Although you might have to pay a bit more for leather seats, heated seats, and a sunroof, you'll be able to get these desirable consumer amenities on a new Ford. Many, like the Escape, offer additional conveniences like a hands-free liftgate, split-folding rear seats, and multi-zone air conditioning for optimal passenger comfort.
What Safety Features are in High Demand?
Safety is another important category for consumers. Fortunately, it's also an area where Ford stands out. Today, consumers are mostly interested in getting driver-assist amenities, say researchers at Consumer Reports. Their top five picks, in order of importance, are automatic emergency braking, forward collision warning, blind-spot monitoring, rear cross-traffic alert, and lane-keep assist. You'll find many of these amenities on your Ford of choice. Ford "Safe and Smart" driving package, for instance, gives you all of these amenities plus rain-sensing windshield wipers and automatic headlamps that have highly visible bulbs.
Which Drivetrains are Available?
While manual transmissions were once standard, they are now falling in popularity to automatic transmissions. Most Ford vehicles feature standard automatic transmissions, even trucks. Some even have paddle shifters to make your driving experience even more enjoyable. Cruise control, which is another popular feature, is another amenity you'll find on a new Ford. When it comes to the drivetrain, consumers generally prefer to have four-wheel drive. You can get many Fords with four-wheel drive, including the F-Series, which offer a choice of front-wheel drive and four-wheel drive.
The auto market is increasingly competitive. But Ford, a classic American auto manufacturer, is far from falling behind. Instead, with the latest in technology, safety, and convenience, it is ahead of the competition. To ask about the features your favorite Ford offers, give us a call or come into our dealership in Grand Prairie.