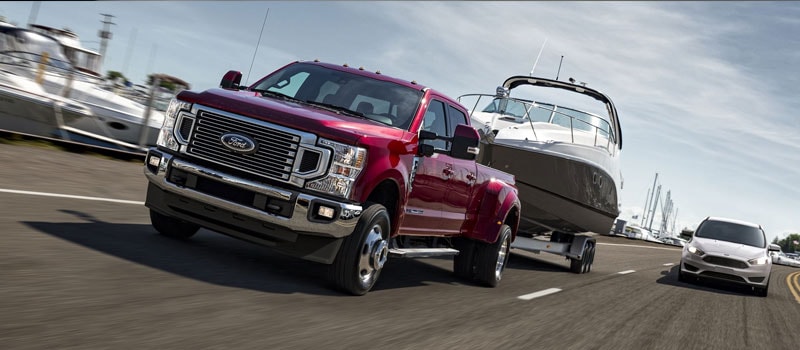 The New Ford V8 Will Be More Powerful Than Ever
In a world where engines are becoming smaller and more dependent on superchargers and turbochargers, Ford has decided to go big. In fact, the company is introducing one of the largest V-8 engines ever created for a production vehicle. The new Ford 7.3 liter V-8 engine will be available on Ford Super Duty Truck models from the F-250 up to the F750.
Going Against The Trend of Smaller Engines
The new Ford V-8 engine replaces the 6.8-liter OHC V10 gas motor that was introduced in 1997. The new engine is expected to be available on 2020 Ford Super Duty Trucks. While horsepower numbers have not been revealed, they are expected to meet or exceed its successor.
The new Ford V-8 engine is naturally aspirated. That means the engine does not need to rely on any turbocharging or supercharging in order to get the power it needs. That also means that the engine will be easier to maintain and will be more durable throughout the life of the vehicle. These Overhead valves (OVH) motors maintain the camshaft deep inside the engine block itself.
Ford engineers designed the V-8 engines to be overbuilt to provide the type of durability demanded from commercial trucks. This allows people who want to use the trucks for everyday duties to have more than enough power for towing, hauling or rugged driving duties. The new V-8 engine will be paired with a 10-speed automatic transmission.
Take A Test Drive Today
Grand Prairie Ford invites you to test drive the 2020 Ford Super Duty Trucks with the brand new 7.3-liter V-8 engine. Now is your chance to check out one of the most powerful V-8 engines available on any 2020 production truck. Our experienced sales team will show you everything you need to know about our new Super Duty Truck. Don't wait. Due to popular demand, our inventory of 2020 Super Duty Trucks will not last.