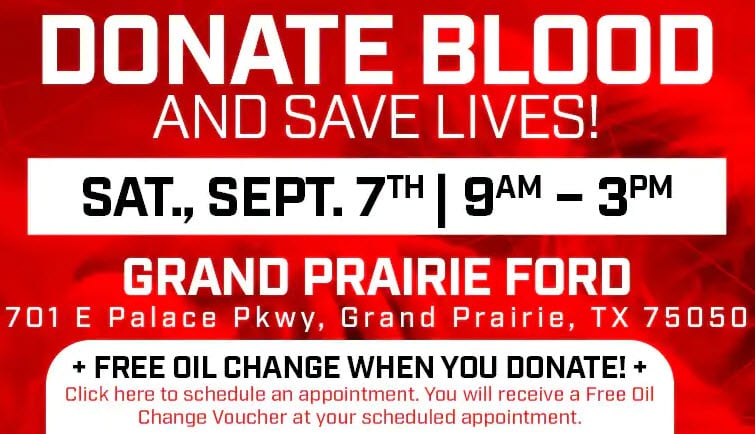 When you roll up your sleeves to give to those in need, you'll be rewarded! Donate at Grand Prairie Ford's upcoming blood drive and we'll gift you with a free oil change voucher. Our blood drive takes place on Saturday, Sept. 7 from 9 a.m. to 3 p.m. and appointments can be made online here.
How Much Are Blood Donations Needed?
Blood donations are desperately needed. Statistics show that only about 3% of those eligible to donate actually do, and blood transfusions are needed roughly every 2 seconds. Over 36,000 units of red blood cells are needed in the U.S. every single day, and they only come from those who volunteer, so the impact of donating is immense and highly needed.
A single donation, which is 1 pint, can help save the lives of up to three people. And your donation will not only have a positive influence on those receiving blood transfusions, but also on their family and other loved ones. If you have type O blood, your donation is even more important, as this is the most needed blood type at hospitals.
What if I Donated Within the Past Couple Months?
Even if you feel like you've donated recently, as long as it's been 8 weeks (56 days) since you gave a standard whole blood donation, it is safe to donate again.
If you've been thinking about donating blood in the Dallas area, mark your calendars for our event on Sept. 7 and make sure to schedule your appointment online ahead of time. We look forward to seeing you there!