We here at Grand Prairie Ford understand that your lifestyle is very busy. There are a number of routine maintenance needs that you will require over the life of your vehicle. One of them is resetting your keyless entry system. If you need to do this, you can do on your own by following a few steps. Let's take a look at how you can reprogram this system without having the factory code.
Resetting Your Ford Keyless Entry
There are a number of benefits of resetting your keyless entry code. For example, you can:
Unlock your car door
Lock your car door
Recall seat positioning
Open your trunk
Program a personal entry code for your vehicle
Erase your personal entry code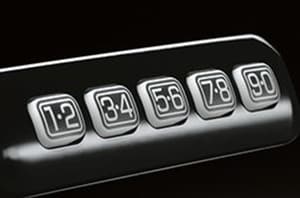 Resetting Your Keyless Entry without Your Personal Factory Code
There are a number of vehicles that you can reset without having a factory code in hand. This includes the Focus, Fiesta, Fusion, Puma, Connect, Kuga and more. The process is as follows:
Obtain a factory code using an online generator
Press button numbers one and two. Wait five seconds in between each of them
Enter the new personal code that you have chosen to use moving forward
Press buttons one and two again. Five seconds in between are needed this time as well
The doors should lock themselves and unlock. This is the signal that the process if complete and successful.
If you have any further questions about resetting your Ford keyless entry system, feel free to contact us at Grand Prairie Ford. We are happy to answer any questions that you have about this process or another routine maintenance item. We can also complete this process for you, if you would like.