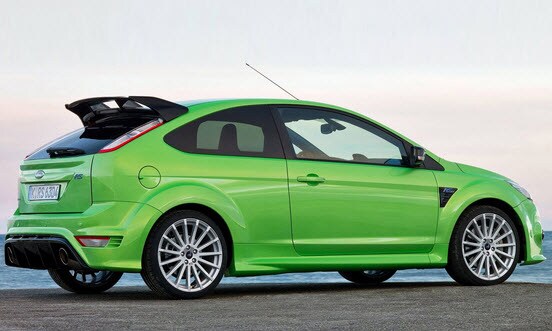 You heard it here first! The U.S. is finally going to get Ford's hottest hatch, the Focus RS, which has long been beloved by European drivers. American car enthusiasts are going bananas over the news, which is no surprise if you know anything about the RS.
Sources say that when the car hits red, white and blue soil, it'll have some exciting changes. First, it's been on a FWD platform, but the U.S. model is expected to get an all-new, high-traction all-wheel-drive (AWD) system that's better equipped to handle the 2016 Ford Focus RS' high power levels.
The second most headline-grabbing bit of news concerning the RS is its new engine. Sources say the 2016 model is going to get a brand-new 2.3-liter Ecoboost. Sound familiar? That's because it's the same brand-new four-cylinder seen on the next-gen 2015 Mustang at Grand Prairie Ford.
When set up with the smaller 2016 Focus RS, the engine will get even higher power ratings. Some say about 330 horsepower should be expected, where the larger-in-size Mustang is rated at 310 hp.
Now that you know what all the hype's about, we hope you're just as excited as we are to see the RS land in the U.S. late next year. For now, you can look forward to the upcoming arrival of the 2015 Ford Focus S, SE and Titanium sedans and hatchbacks, which will also muster up plenty of fun, features and flair - they'll be here soon!