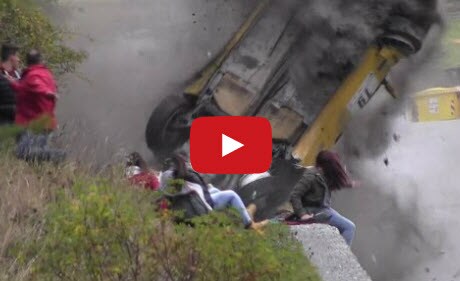 We love our motorsports here in Texas, but usually we watch from grandstands or behind fences, where one is a safe distance away from flying debris or in some cases spiraling, airborne cars. At the Jolly Rally al Colle San Carlo in Italy however, rally fans hanging out near the outside of a turn found themselves inches away from an out-of-control car that came hurling right at them. See the heart-stopping video below.
Spectators caught in the trajectory of the car were incredibly lucky that they weren't hurt, though the vehicle didn't fare so well after flipping 360 degrees through the air and falling down a hill. In the video, which shows the crash in real time and slow motion, you'll see how a group of rally fans managed to cheat death. It was such a close call that some might say it had god's hand written all over it.
At many motor rallies, viewers are allowed to line the track, which seems pretty cool for those who want to be close to the action. However, due to a lack of barriers and runoff areas, it can be very dangerous. Such was the case in this instance. Check out the video now to see what happened.