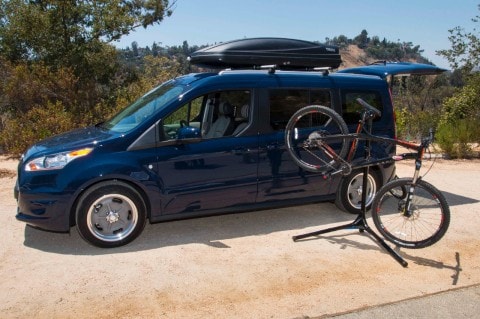 Ford is giving customers a better look at the versatility of its popular Transit Connect wagon. Highlighting their most recent Transit Connect giveaway, Ford showcases how the wagon can be customized for both business and fun.
Small business owner Devin Stovall was the winner of the 2016 Ford Transit Connect Wagon giveaway. A father of two and the owner of a bicycle repair business, Stovall gravitated toward the Transit because of its exceptional utility as both a work and family van.
"This summer, I'll use our Transit Connect Wagon to service bicycles and wheelchairs on weekends and days off from my full-time job at a bicycle shop," said Stovall. "During the week, I'll use it to drive my oldest to preschool and my littlest to daycare. Then, when I flip the seats down, it's a great grocery-getter and beach-gear transporter. Being able to do this on my days off is really going to help give my family a better quality of life. I have to make a living, but I also want to help other people."
A sporty van that seats five, the Transit Connect Wagon features flip, fold and tumble second-row seats, a low load floor and 104 cubic feet of storage space, giving small business owners in Grand Prairie a terrific option for those who need a van for both family and business.
To take home a new Ford Transit van, visit us today at Grand Prairie Ford.