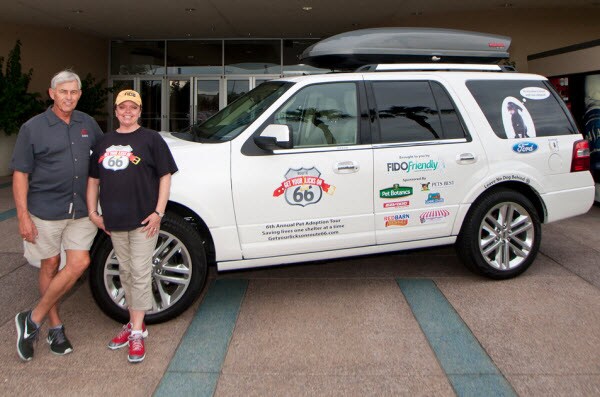 To raise awareness for shelter animals in need of loving homes, FIDO Friendly is going on tour and they're using a new 2015 Ford Expedition EL for the campaign! The tour started in LA on Sept. 12 and will continue through Oct.19, hitting pet adoption shelters in several cities, including Kansas City and Chicago. For the past three years, Ford has supported FIDO Friendly magazine's annual tour, and even donated a Ford Escape and Ford F-150 for preceding events. Now in the campaign's sixth year, tour leaders Susan and Greg Sims are taking a new Expedition up Route 66.
As they travel along the Main Street of America, the Sims have their two rescue dogs in tow, as well as a large spinning prize wheel and a bunch of goodies donated from pet product companies, which will be handed out at events throughout the tour. On sale soon in Grand Prairie, the new 2015 Expedition EL will offer a quiet and comfortable ride for the Sims and their pets. Plus, the SUV's EcoBoost technology will deliver great fuel savings - a notable bonus for anyone going on a nationwide tour!
Before long, pet-loving SUV shoppers in north Texas will be able to purchase the new 2015 Ford Expedition in the Dallas area! Its arrival is quickly approaching and we can't wait!