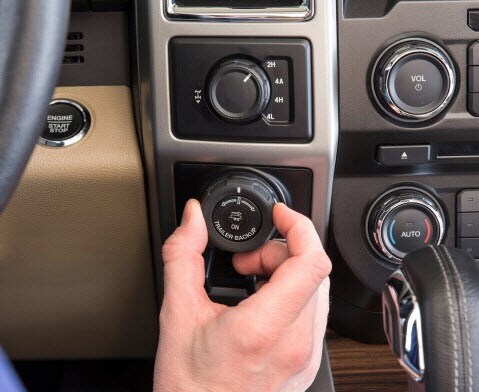 The redesigned 2015 F-150 quickly gained acclaim among critics and favor among consumers for its groundbreaking redesign and we're confident that the 2016 edition of the truck will be just as popular, especially with new additions like a first-in-its-class Pro Trailer Backup Assist feature! Ford recently announced that the new technology will be added to the 2016 F-150 and it's an incredibly useful tool that'll make maneuvering trucks with trailers attached much easier and safer.
When operating the assist tool, drivers use a dial to make accurate turning decisions and they can watch what's going on the whole time using the truck's backup camera, which sends footage to the dashboard interface. Pro Trailer Backup Assist will minimize maneuvering mistakes that waste time on worksites or when you're having fun outdoors.
The system was developed over the course of a decade and it shows in the technology's precision. Just check out the video below to see what we're talking about. Feel free to jump in 50 seconds if you want to skip straight to the portion of the video where they show how the dial is used to back up the truck.
We hope to hear more soon about the 2016 Ford F-150's new additions and will keep you posted on our blog. Subscribe to our RSS feed if you would like to receive updates about the latest Ford and dealership news!