Many folks are asking what's new with the 2019 Ford F-150 Raptor, but the more appropriate question may be what's NOT new with the 2019 Ford F-150 Raptor. Why? Because it's getting a full face-lift for the 2019 season, and there's very little that is staying the same on this one! To give you an idea of what's getting an upgrade let's just go through a short checklist: A new color palette (Ford Performance Blue), upgraded shocks, and new front ride height sensors, to name just a few of the new goodies that Ford has in store for future Raptor owners. And if that's not enough reason to race out and buy this big, bold truck for yourself, here are just a few more.
What Are Some of the New Specs and Features?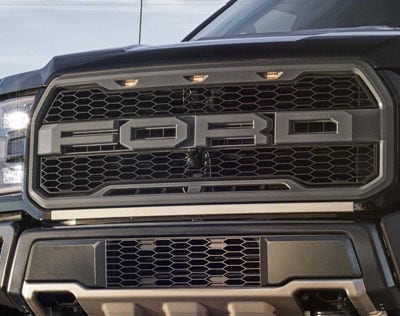 One of the biggest exterior changes is the leaner weight of the new Raptor. Don't let that fool you, though. They're just losing some of the bulk, not any of the functionality, and the new color schemes make the truck appear much bigger than it is. Another big exterior stamp is the BLOCK LETTERS that compose the grille's FORD name. It's a big introduction to the truck, and we're certain that longtime Raptor fans are going to appreciate this one.
The engine for this one is the twin-turbo, intercooled DOHC 3.5L Ecoboost engine that's going to power out 450 horsepower and 510 lbs-ft of torque. It's a huge amount of power for a truck that handles this small. It's fun to drive, comes with amazing off-road options that will make your adventures even more fun, and it simply looks amazing on the road. Few people would argue that the Raptor isn't one of the most handsome trucks on the road.
What Else Should I look Forward To?
Front bucket seats
8-way power driver seats
4.2" Productivity Screen
Upgrade to the optional 8" productivity touchscreen
Rear view camera with Dynamic hitch assist
SOS-Post crash alert system
FOX Racing Shox (High Output)
It's an amazing variety of comfort, technology, and pure power features that are certain to help you accomplish all of the goals you'll have for your Raptor, whether that's just being a great family pickup, a work truck, or an off-roading legend in the years to come. The Raptor can accomplish anything you want it to, and it's one of the best trucks out there for towing and pure off-roading power.
Can I Take a Test Drive?
The Raptor is going to be front and center once available. It's the perfect workhorse, the perfect dating taxi, or the perfect family pickup truck for anyone out there that needs extra power and towing capability. We invite you to call us today to schedule a test drive with the 2018 model. You can also inquire about when the 2019 F-150 Raptor will be available to test drive. We're confident that once you get behind the wheel, you're going to love it. Call us today or write to us to schedule your free test drive and experience a Ford in all its glory.